Luca Guadagnino's Academy-Award winning 2017 adaptation of André Aciman's novel Call Me By Your Name was likely to be many cinephiles' introduction to the Italian filmmaker's work. The exquisite and deeply moving coming-of-age romantic drama led by Timothée Chalamet and Armie Hammer had the majority of viewers enraptured with the lead characters as well as the gorgeous Northern Italy setting, and ushered in an intriguing phase in Guadagnino's career, whereby the eyes of a multitude of new fans were on him to see how he could follow up such a critically lauded piece of work. Having helmed the polarising 2018 remake of Dario Argento's iconic 70's horror film Suspiria, his latest project sees Guadagnino return to his home nation, only on this occasion it has been crafted not as a film but an eight-episode limited series named We Are Who We Are co-produced by Sky and HBO.
If you were to observe the marketing material for this show, it would be easy to perceive Guadagnino's venture into television as him trying to repeat the magic trick he performed with Call Me By Your Name, with a strong emphasis on a luscious Italian location, the queer experience, and ultimately a group of young people attempting to forge relationships (platonic and romantic) and grappling with their identities. Over the course of the series, however, the temptation to compare and contrast both texts gradually wanes as you become immersed in the developments in these teenagers' lives, specifically those of the two main protagonists: Fraser (Jack Dylan Grazer) and Caitlin (Jordan Kristine Seamón).
Based in the coastal town of Chioggia in 2016, key events revolve around a fictional military base that Fraser and his two mothers Sarah and Maggie (Chloe Sevigny and Alice Braga respectively) – both occupying positions in the U.S Army – have just moved to from New York. In the early stages of the opening episode, Fraser does not come across as incredibly appealing. He seems self-absorbed and rather apathetic towards others as he beds into his new home. In spite of some off-putting behaviour, Guadagnino, along with co-writers Paolo Giordano and Francesca Manieri, create the impression that there is more to Fraser than meets the eye, with the curious dynamic he shares with Sarah in particular, which sometimes shifts from hostile to affectionate in mere moments, suggesting a complicated upbringing that has shaped the sense of isolation he feels.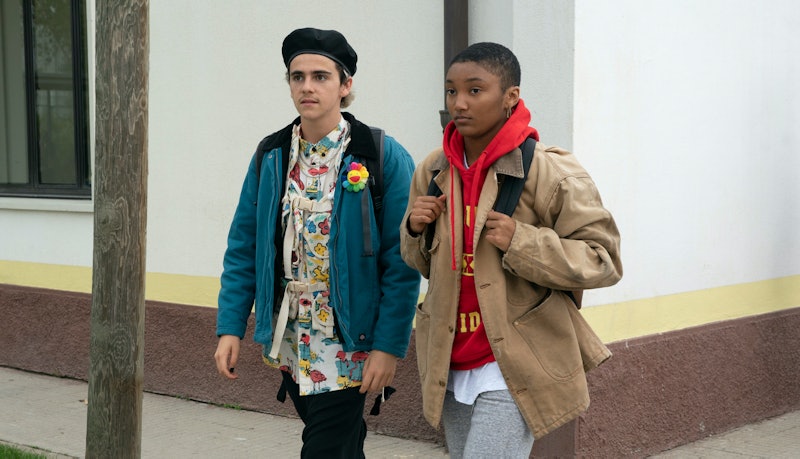 What sparks his and indeed the series into life is his encounter with fellow American teenager Caitlin. Like Fraser, she has a parent in the U.S. Army (her father Richard played by Scott Mescudi a.k.a. Kid Cudi) and, despite initially being introduced as one of a group of friends of alternative nationalities, she is also somewhat of an outsider. The two of them, bound by a mutual sentiment of estrangement from society, are compelled by each other, leading to a companionship boasting rich complexity.
The manner in which the relationship unfolds between Fraser and Caitlin is quite unique in comparison to other coming-of-age films and series. The former's immediate fascination with her (manifesting through him taking a picture of her while she recites a poem in her English class) is met with seeming ambivalence by the latter, but it does not take long before the two of them feel comfortable allowing repressed aspects of their personality resurface while spending time together. Their personalities vary – Fraser has a capacity for hyperactivity and a lack of filter when it comes to social interactions while Caitlin is more level-headed and affable – but this juxtaposition serves to render the scenes between them even more engrossing. The most striking part of their relationship is that it cannot be categorised in simple terms; it is not entirely platonic nor romantic, but there is clear intimacy between them as they assist each other in reckoning with gender and sexual identity.
One of the highlights of We Are Who We Are is witnessing the two lead actors blossom throughout. Jack Dylan Grazer is the more recognisable of the pair having appeared as Eddie in the recent film adaptations of Stephen King's It as well as the DC Extended Universe entry Shazam. The manic personality and exceptional comedic timing Grazer evinced in those films are often on display in this show, but it is his ability to excel in the more heart-rending and occasionally subdued moments which showcases the vast array of talent he possesses. Newcomer Jordan Kristine Seamón is magnetic for the duration of the series, proficient in alternating between vehemency and vulnerability seamlessly. Their finest work comes in the show's final hour, where they asked to carry significant emotional weight as their characters' storylines reach a poignant conclusion, and the pair prove more than capable of handling it. Both of them have the makings of being real stars if casting directors have been paying attention to this series.
The term 'vibes' has been increasingly used in a sporting context recently, with pundits emphasising how certain organisations have become reliant on drawing success from the mood surrounding it rather than leaning on a defined structure. As it transpires, We Are Who We Are relies heavily on its mood to entice viewers instead of being dependent on the traditional narrative progression of many television shows. While the series is split into eight parts, the focus varies from episode-to-episode. The first hour, for example, centres almost entirely around Fraser, while the following part covers the same timeframe the previous one did but from Caitlin's perspective. Occasionally, both leads are relegated to the background of proceedings as supporting characters get their share of the limelight, particularly evident in the penultimate instalment which sees many figures in the story coping with a tragic event. The fourth episode, meanwhile, is almost entirely comprised of the core group of young adults attending an impromptu wedding, visiting a vacation house, and getting progressively more drunk and intimate with each other. This specific portion of the show could alienate casual audiences with its lack of substantial plot developments, but it encapsulates what makes this series so enthralling: its marriage of form and content.
The fluidity of identity that many characters are struggling with is complemented by the looseness exhibited through Guadagnino's direction. Extended long takes following Fraser, Caitlin, and others through Chioggia, combined with the minimal use of non-diegetic score, convey a sense of naturalism as well as the tranquil atmosphere which pervades the area. This in turn enables viewers to draw their attention more closely to the dialogue exchanged between individuals, which also comes across as very organic and genuine. The programme encourages the audience to not just soak in the alluring setting, but the occasionally blissful expressions of youth, with sequences hinged on the work of musical artist Blood Orange acting as the most salient manifestations of this. We Are Who We Are is a show that exudes so much confidence in not just the story it is telling, but the way it is telling it. Certain storylines and character arcs take time to evolve while others are promptly disrupted, yet this is intended to reflect the disorderly nature of life, especially adolescence. Fraser and Caitlin have to navigate numerous obstacles throughout the series, but only by the end do they experience a true sensation of catharsis. The approach is a slow-build, which might frustrate casual viewers, but those who trust in it will be rewarded for emotionally investing in these characters.
The understated but profound depiction of notable issues facing young adults is arguably We Are Who We Are's greatest strength. Television audiences have been blessed in recent years with sincere portrayals of teenagers from various backgrounds undergoing a crisis of identity and descending into the pitfalls which accompany the transition from adolescence to adulthood, with Sex Education, Euphoria, and Normal People particularly noteworthy examples. Guadagnino's project continues this trend of tackling these obstacles in a progressive fashion, covering topics such as religion, puberty, gender identity and sexuality in a frank, raw, and powerful manner. The writing team recognise when humour can be generated from rather uncomfortable scenarios, but simultaneously acknowledge the resistance that an individual must confront from some quarters as they seek self-fulfilment. The characters might not obtain the amount of gratification they desire from a relationship or a change in their appearance, yet they never lose their sense of self, and as long as they arrive at a place in their life where they feel satisfied with who they are, that is all that matters.
The possibility of a follow-up to We Are Who We Are lingers in the aftermath of its finale, but even if this is all we get, the series has cemented itself as one of the most transfixing contemporary coming-of-age shows to have been produced. Rather than covering familiar ground, Guadagnino has built upon the ideas detailed in Call Me By Your Name and crafted an absorbing tale of fractured identity and the lengths young people go to in order to heal it. His immense filmmaking talent was not in doubt, but to see it imbued throughout eight arresting episodes of television is a real gift for fans of his work. 
4.5/5