After last week's blissful and enthralling piece Lovers Rock, the latest entry in Steve McQueen's Small Axe series, Red, White and Blue, harks back to the first instalment of the anthology, Mangrove, in its examination of the corruption and prejudice which has existed in authoritarian institutions, only this time drawing the focus specifically on the London Metropolitan Police. Set in 1980's London, these issues are explored through the eyes of Leroy Logan, a former research scientist who entered the police force in the hope of combating the racism displayed by numerous officers, some of whom inflicted a brutal assault on his father. The extent of Logan's ambitions eventually begins to take its toll, as he recognises that trying to influence radical change in the discriminatory attitudes of his fellow officers is far more complex than he imagined.
In keeping with McQueen's filmography, Red, White and Blue tackles its core subject matter in, for the most part, a multi-faceted manner. The first act of the piece neatly lays the foundations for Logan's key decision. While Leroy is enjoying a stable relationship and career, he is aware of the bigotry which pervades his community, highlighted in the opening scene where Logan as a pupil is waiting outside school for his father before being confronted by two members of the metropolitan police force. Not only does this introduction serve as a reflection of how legislation such as sus law has been utilised by officers to target members of marginalised communities, but it establishes the intriguing dynamic between Logan and his father, Ken, one which evolves considerably as the film progresses. Ken's cynicism and scepticism towards the police force is countered by Logan's naïve optimism that the level of discrimination faced by his family and many others in London can be influenced by someone like himself becoming a trustworthy figure of authority. Through these two characters, McQueen deftly captures the generational divide in the outlooks of West Indian immigrants towards the xenophobia they are forced to endure.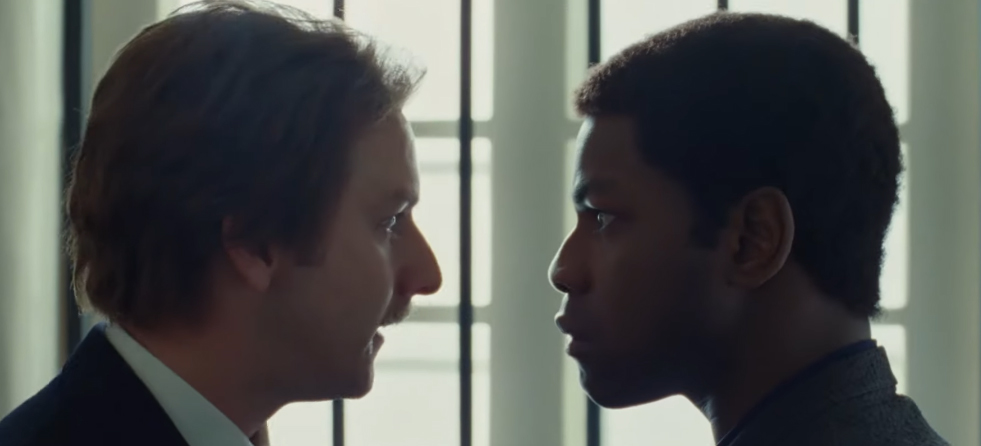 The casting of John Boyega as Leroy and Steve Toussaint as Ken further enhances McQueen's depiction of this often frosty but deeply emotional relationship. Witnessing an actor as talented as Boyega work alongside a filmmaker of McQueen's calibre was a very exciting prospect, and after seeing this we can only hope that they collaborate on more work in the future. Boyega efficiently navigates between the idealistic, slightly bullish characteristics of Leroy which are apparent in the first half and the anger and despondency which consumes him during the latter stages. He has a skill of maintaining a level of simultaneous intensity and sincerity when he is on screen that when Leroy finally rebukes his fellow officers and superiors, it feels like a moment of catharsis not just for his character but the audience. Toussaint, meanwhile, has more to do in regards to outbursts and heated confrontations with various figures, but he is able to counter those moments with subtle but poignant scenes of introspection, contemplating the choices that his son has made in spite of the way he was raised. Despite engaging in frequent arguments with Leroy, his frustration is borne out of years of torment and harassment that he does not want him to endure, hoping that he can contribute to the community in a safe but valuable manner. Toussaint's stand-out moment comes after hearing about how his case against the police officers who attacked him has been resolved. Though Ken utters hardly any lines, the expressions on Toussaint's face say so much about how swiftly and frivolously cases of ethnic persecution have been handled by the British court system, denying many immigrants their right to witness appropriate justice being exacted.
Red, White and Blue's exploration of systemic racism in the metropolitan police force signifies the difficulties in affecting drastic reform in any authoritarian institution. Very few scenes featuring Leroy in the police force come across as overdramatic or illogical, which renders the instances of the protagonist challenging his fellow officers' ignorance, neglect, and overt aggression incredibly earnest and emotionally impactful. The film also poses thought-provoking questions regarding a person's responsibility to their community, particularly one that has been marginalised. Leroy comes to believe that obtaining a position in an organisation which as much power as the London Metropolitan Police force is the main avenue to tackling and ultimately changing dominant attitudes and behaviour towards a specific social group in a meaningful manner. However, his parents suggest that maintaining a firm occupation such as a research scientist can also act as a viable way of inspiring people around you to follow career paths where they are recognised on individual merit rather than simply fulfilling some sort of diversity quota (a key motive for the police force hiring Leroy in the first place). Subsequently, Leroy faces a dilemma in whether to persist in bringing about reform in his workplace in spite of the resistance he confronts or to call it quits and return to a life with less fraught encounters on a daily basis, but without the shield of a police badge.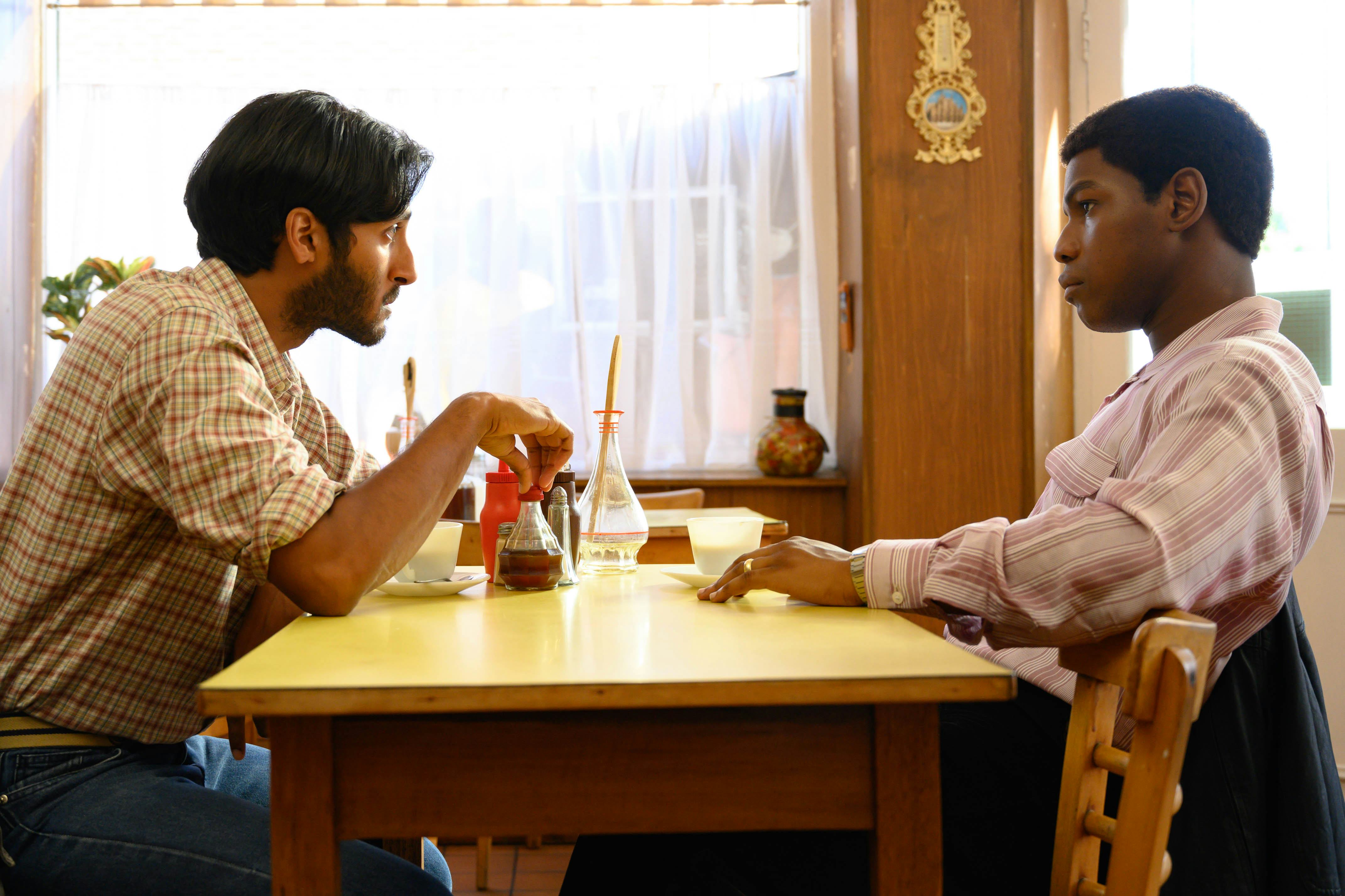 The only major misstep in Red, White and Blue is that its second half feels slightly undercooked in comparison to the opening 40 minutes. While there are a handful of sequences featuring Leroy's colleagues openly exhibiting their prejudice towards citizens and often the protagonist himself, the film ought to have demonstrated in more detail how these biased attitudes not only spread throughout the police force, but also how peer pressure inhibits certain officers from speaking out about it. A notable moment in Mangrove, for example, comes when the outcome of a card game involving certain police officers in the station leads to them coerce a younger recruit to chase down an innocent black person wandering around Notting Hill. This scene strikingly showcased how racist stances can be passed from one wave of policemen/women to the next, perpetuating the systemic flaws in the institution. Red, White and Blue could have done with a sequence like this to add another layer to the characterisation of Leroy's fellow officers.
In conclusion, while an extra twenty minutes would have helpfully expanded upon Leroy's time in the force, Red, White and Blue is yet another captivating entry in the Small Axe anthology, offering stimulating insight into the challenges in shaping reform and questioning whether the sacrifices made to do so are warranted.
4/5
Red, White and Blue is currently available on the BBC iPlayer, while it will be released on Amazon Prime USA on Friday December 4th.