I consider Lakeith Stanfield, Daniel Kaluuya, and Jesse Plemons to be three of the most exciting actors working today. From carrying films on their shoulders to delivering scene-stealing supporting turns, this trio of performers are at a stage in their respective careers where every project they are a part of is compulsory viewing for me. The prospect of a film featuring all three was already extremely enticing, but when it emerged that they would be starring in a picture revolved around Fred Hampton, a personality whose story is primed for an absorbing and sincere cinematic portrait, my interest piqued even further.
Helmed by Shaka King in his sophomore directorial effort, Judas and the Black Messiah wisely veers away from the formula of a standard contemporary biopic. Rather than following Hampton's life from his childhood to his eventual role as chairman of the Illinois chapter of the Black Panther Party (BPP) and his conflict with the FBI, it focuses on the dynamic between the activist (played by Kaluuya) and William O'Neal (Stanfield), an FBI informant who would play a critical role in the former's demise. Set in the late 1960s, King's feature opens with O'Neal trying to hijack a car while pretending to be a federal officer, leading to his arrest. Roy Mitchell (Plemons), an FBI Special Agent, presents O'Neal with an opportunity to have the charges against him dropped, which involves him infiltrating the BPP's Illinois chapter and reporting their activities. Thus, the film operates not only as a biographical drama revolved around a seminal figure in the context of the Civil Rights Movement in the United States, but as a cat-and-mouse thriller in which a protagonist is caught between the two organisations at odds with each other.
What elevates Judas and the Black Messiah above many other dramas of its ilk is its unconventional and nuanced approach to multiple aspects of the narrative and characterisation, yet simultaneously managing to serve as an accessible and engrossing piece of cinema. One element of the film that could have easily become irritable to an audience is King and co-writer Will Berson's decison to spend so much time with William O'Neal. Splitting the screen time pretty evenly between both O'Neal and Hampton may jar certain viewers who watch the film with the expectation of following the latter for its entirety, especially given that the former is an individual shrouded in moral ambiguity. The dual narrative on display is reminiscent of Miloš Forman's Academy-Award winning 1984 feature Amadeus, another stellar biographical drama which wisely forewent the temptation to solely explore the titular composer's career in order to present a riveting, if significantly fabricated, story of the rivalry that the Austrian shares with Italian composer Antonio Salieri. Although the dynamic that exists between O'Neal and Hampton is not marked by competition, the manner in which their lives intersect enriches their depiction, especially in regards to the profound effect Hampton has on the FBI informant. Over the course of Judas and the Black Messiah, O'Neal suffers from a crisis of conscience, under pressure to save his own skin by fulfilling the task handed to him by Mitchell, but gradually growing more attached to Hampton and his work in the BPP. Stanfield superbly encapsulates this conflict of interests, as his character attempts to convince both organisations that he is on their side while struggling to determine which one his loyalties truly lie with. His eventual decisions may not elicit a great deal of sympathy from viewers, but the film is more thematically stimulating as a result, encouraging them to consider the actions they would take if they were in O'Neal's position.
One of the main appeals of Judas and the Black Messiah for audiences is the opportunity to witness an actor as magnetic as Daniel Kaluuya portray a figure renowned for his skills in oration and organisation. Unsurprisingly, Kaluuya commands the screen whenever Hampton delivers rousing speeches to his followers at rallies, one of which was sensibly used to frame the film's pulsating first trailer around. However, Kaluuya not only excels in these highly-charged moments; his quieter interactions with O'Neal, fellow BPP members, and opposing gangs serve as showcases for the British actor to convey a wider range of emotions. His ability to manoeuvre between intimidation, cogency, humour, and vulnerability demonstrate his versatility as a performer, as well as helping to render the picture's presentation of Hampton incredibly layered. Just as the activist spends much of the film's first act recruiting participants and forming alliances with rival organisations, Kaluuya has to persuade viewers previously unaware of the revolutionary's influence as to why he gained so much respect and support, and by the end they should be left in no doubt not only of the actor's extraordinary talent, but of Hampton's leadership abilities.
Despite Mitchell only acting as a supporting player, Plemons's character is a pivotal presence in the film, a reflection of how institutions like the FBI, led by its Director J. Edgar Hoover (Martin Sheen) indoctrinates agents into holding misguided beliefs regarding parties like the BPP and the wider community of African-Americans. Mitchell privately expresses his support for the Civil Rights Movement to O'Neal, but hopes that it will be achieved through peaceful means, condemning both the KKK and BPP for the violence that has been perpetrated and describing the pair of them as "one in the same". While its portrait of the FBI is painted with quite broad strokes, there are moments in Judas and the Black Messiah where Hoover's ability to manipulate officers like Mitchell into following through in their crusade against Hampton and the Panthers comes to the fore in a striking fashion. At one point, the FBI Director asks Mitchell how he would feel if his daughter grew up and brought a black man home. The latter is clearly shaken by Hoover's question, and the scene is a disturbing illustration of how the higher-ups in powerful organisations were able to inculcate an attitude of fear and bitterness among their recruits towards their target.
Moments like these are juxtaposed with the film's presentation of the Panthers' regular activities, with Hampton and his fellow members making the rounds in Chicago, reaching out to various communities like the Crowns, Young Patriots, and Young Lords, who on the surface seem at odds with the BPP's principles, but through their leader's remarkable capacity to connect with their participants by emphasising the shared marginalisation all of these groups have endured, his party are able to form the Rainbow Coalition, built on the promise of nonaggression. These sequences are crucial in demonstrating how the Panthers strengthened their reputation by engaging in grassroots ventures rather than provoking authorities in a more extreme way. Hence, the audience is able to fully understand why so many people believed in the BPP and got involved in their struggle, in spite of the FBI's attempts to misrepresent their cause through the media.
Judas and the Black Messiah also explores how Hampton's actions and those of the BPP in general would reverberate throughout the latter half of the 21st century. While Hampton is clearly an inspiring figure to his followers, there are times when he is challenged to ground his ambitions and ponder his responsibilities outside of the Panthers', especially as a partner and an eventual father. The scenes he shares with Deborah Johnson (Dominique Fishback), a fellow BPP member who becomes his girlfriend, exemplify the pressure Hampton feels at playing multiple roles throughout a tumultuous period of his life. Deborah, through poetry, reminds him of the importance of establishing a strong legacy not only for his party, but his own potential family. Along with the conversations he shares with the parents of deceased BPP participants, these exchanges between Hampton and Johnson not only act as a welcome change of pace from the suspenseful conflict involving the former, O'Neal, and the FBI, but enhance the activist's characterisation and reflect the risks of becoming too ingrained in a movement to fulfil the promises made to others, potentially shattering the reputation that has taken so much effort to create.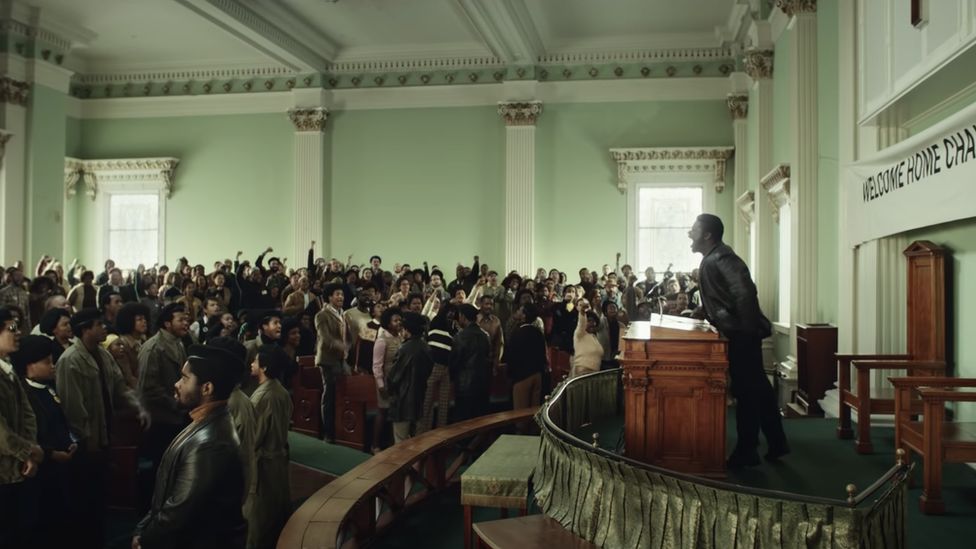 Overall, Shaka King's second feature establishes the American filmmaker as one to keep a close eye on over the coming years, as his capacity for constructing an intense thriller on top of an absorbing biographical drama is a noteworthy achievement. Maximising the potential of its extraordinary cast's talents, Judas and the Black Messiah serves as an enthralling illustration of the complex dynamics apparent in a revolutionary organisation's struggle against oppression.
4/5