After publishing my blog post at the end of January which was centred around the films I had been watching throughout that month, I decided that I should do the same for February. While I continued the trend I had set in the first month of 2021 of watching a handful of classic films I had not caught up with yet, particularly non-Western ones, I also had time to seek out a few television contemporary shows that had garnered a considerable level of attention. As I tried to identify which of these would be spotlighted in the latest edition of 'What I've Been Watching', there was one particular series that I found myself enraptured with, especially during the latter half of February. I had actually begun viewing it in January, but as I delved into its second and third seasons, I realised that I ought to dedicate an entire post to this show, one that has managed to alleviate the tedium associated with another lockdown resulting from the current pandemic. Subsequently, this edition of 'What I've Been Watching' is a tribute to the gem of a series that is Cobra Kai.
Prior to clicking the 'Play' button on the first episode of Cobra Kai, my relationship to the 1984 smash hit The Karate Kid and the franchise it spawned was not that deep. I recall watching the original film when I was about 10 or 11 around Christmas, but it was not one I revisited until earlier this year. Even though I had attended martial arts lessons from the age of 8 to 12, John G. Avildsen's flick rarely came up in conversation (Zack Snyder's 300 (2007) was referenced more frequently by my coach than The Karate Kid). Of course, there are lines and shots from the feature that have become so iconic that you could have not seen the movie and still be able to recognise where they originate from, such as "Sweep the leg!" and the crane-kick. Cobra Kai has been on my radar for a couple of years, but given my lack of attachment to the series, I did not feel an urge to catch up with the show until it was picked up by Netflix last summer and the buzz continued to grow and grow to the extent that it was too difficult to ignore.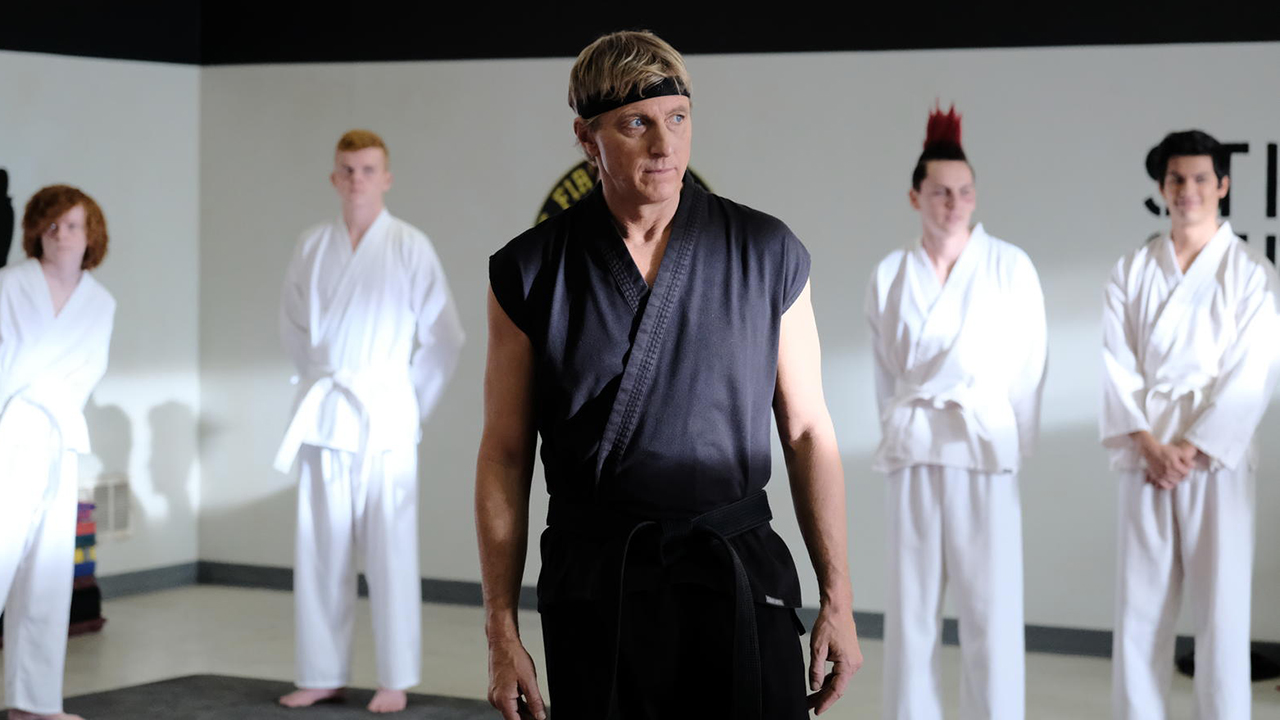 I rewatched The Karate Kid a few days before I started watching Cobra Kai, developed by Josh Heald, Jon Hurwitz and Hayden Schlossberg, and the appeal that has lasted over the course of numerous decades is apparent: it encapsulates so many trends in 1980s pop culture, features memorable characters who share intriguing dynamics, offers valuable life lessons through unconventional means, delivers an abundance of entertaining combat sequences, and rewards viewers' emotional investment in a pretty preposterous storyline by staging a rousing conclusion. And yet, I still found myself questioning how its narrative could serve as the basis for a long-running television show, especially when the three sequels that followed, while boasting certain merits, are not held in the same esteem as the original, possibly exposing the storyline's limitations. As it turns out, simply recontextualising the events of a film can offer a multitude of possibilities for compelling storytelling.
While typing this piece, I am fully aware that I am using words like 'intriguing' and 'compelling' in the context of The Karate Kid franchise, a series full of goofiness and ludicrous plot points. It is built on emotion rather than logic, and that is the beauty of it. However, there are so many aspects of Cobra Kai that should be considered exemplars of how to rejuvenate a seemingly dormant property. Given that it commenced on YouTube Red, lacking the substantial budget of shows launched by juggernauts in the streaming service industry like Netflix, the creatives behind the show had to come up with innovative ways to recapture the interest of The Karate Kid's fanbase but simultaneously gaining new followers. Hence, the bulk of its first season's storyline – which takes place 34 years after the original – revolves around Johnny Lawrence (William Zabka), the primary antagonist of the first movie who unsuccessfully faced off against main protagonist Daniel LaRusso (Ralph Macchio) in the 1984 All-Valley Karate Tournament. LaRusso has gone on to become the owner of a successful car dealership chain as well as a happily-married father of two, his high school rival has been floundering in the years since that All-Valley championship fight, estranged from his family and recently unemployed after a mishap while working as a handyman, Johnny ends up encountering teenage neighbour Miguel Diaz (Xolo Maridueña), and after saving the latter from a group of bullies one night, he decides to rekindle his 'glory days' by teaching him karate, reopening the Cobra Kai dojo where he was trained by the merciless John Kreese (Martin Kove). Subsequently, the positions of the two opponents from The Karate Kid have flipped, with Johnny embodying the characteristics of a typical protagonist: a emotionally lost figure who seeks to revitalise his career by helping downtrodden teenagers stand up for themselves, while Daniel, still scarred by the abuse he suffered from members of the Cobra Kai dojo, attempts to shut them down.
As the seasons develop, the notions regarding the right and wrong ways to teach karate become blurred, and Johnny's motivation behind reopening Cobra Kai is challenged frequently. Mentorship is a crucial theme of the show, and through the group of young characters new to the 'Miyagi-Verse', we witness them go in a variety of directions depending on whose tutelage they are under. Certain individuals begin the series feeling insecure and rather meek, but end up taking their pursuit of becoming skilled in martial arts to the opposite extreme, alienating close friends. Others are able to channel the anger that has been built up throughout their childhood and early adolescence, and use it to withstand the abuse perpetrated by rivals. Johnny and Daniel's fighting strategies are very different, with the former initially employing aggressive tactics and the other favouring defence, but even they are forced to evolve their methods as the show progresses. They recognise that it is important to have principles to adhere to, but occasionally there is a need to adapt to tackle specific obstacles. Ultimately, just as the lessons Daniel learned from Mr. Miyagi (Pat Morita) resonated beyond the context of the sport and were useful in many aspects of his life, the youngsters in Cobra Kai come to similar realisations, enhancing the drama.
One striking feature of pop culture in the last few years has been the re-emergence of '80s properties in film and television, arguably to the point of overexposure. What elevates Cobra Kai above many recent attempts to recapture the magic of that decade is that while it celebrates certain elements of '80s culture, it understands the importance of leaning on the most important of them in order to make strides in contemporary society. Johnny progresses from being a figure out of touch with the realities of the 21st century to a person capable of confronting the challenges of modern life for the betterment of himself and those around him. His struggles with handling technology are hysterical to watch, but they also serve a narrative purpose, strengthening his bond with Miguel in particular. On the other hand, the writers are aware that some facets of Daniel and Johnny's generation still hold substantial weight and influence the show's younger cast of characters in a positive way. Songs, fashion, and locations which feature in the original film are very well-utilised in Cobra Kai, only included when they complement a specific plot development. The showrunners' passion for the franchise is obvious, but through wise and creative decisions, they display a maturity which ensures that any callbacks or familiar iconography rewards long-time fans without alienating viewers new to the story.
Cobra Kai's ability to deftly blend '80s nostalgia with features of contemporary culture is particularly notable in its handling of the fight sequences. The combat in The Karate Kid still holds up in terms of the drama it elicits, but the manner in which the action scenes in this show are filmed and choreographed demonstrates why the wait of over 30 years was necessary. It could easily be suggested that the students in Cobra Kai are way too advanced in their learning of various karate skills, but their ability to pick things up quickly ends up rendering the clashes between rival dojos incredible spectacles. The improvements in camera quality and movements allow the phenomenal stunt work to be captured in all its glory, as well as facilitating an extension of the scale and duration of these fights to amplify the tension (the final episode of Season 2 contains arguably the paragon of these sequences thus far).
For the first couple of seasons, I was thoroughly entertained by Cobra Kai, able to forgive the gaps in logic and dramatic moments borne out of misunderstandings or coincidences due to how charming the cast is and the exhilarating fight scenes. As I made my way through the third instalment however, I found myself as emotionally invested in a conflict between karate dojos as I have been in numerous prestige television dramas. That seems rather absurd, but the magic of the series is that the cast and crew's commitment to the material convinces forms credible stakes. If the people involved in this production had tackled the conceit in a tongue-in-cheek manner, it might have been fun, but lacking any significant weight. As it transpires, the showrunners embrace the fact that this is pretty much a martial arts soap opera, but still treat the story as if it is a new entry in the Star Wars saga, and although that may seem laughable, the sincerity of the series' main messages and solid characterisation create an effect that had me as thrilled by a karate face-off as I have been by a lightsaber duel.
There are three ingredients that will lure me into watching a television show if included: sport, high school drama, and generational conflict. Cobra Kai contains all three, with the added bonus of featuring a character called Robbie Keene, a name which will particularly resonate with Irish sports fans in spite of a slight difference in the surname spelling. It somehow manages to stand on its own as an engaging programme, while also strengthening the quality of the original series, notably by harkening back to the narrative strands of them that worked and adding more layers. Watching the second and third films in the franchise is not a prerequisite for enjoying this show, but if you, as I did, decide to check them out or revisit them, you will feel all the more fulfilled for doing so by the conclusion of Cobra Kai's third season, which teases an event that might be the most excited I have ever been for a sporting occasion, despite being fictional.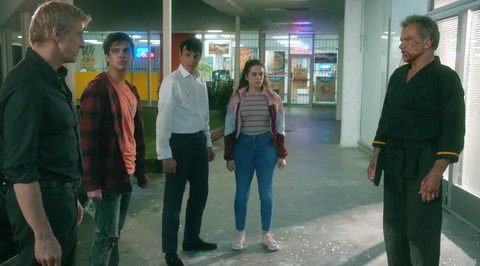 When I was not losing my mind over Cobra Kai, there were a number of films and TV shows I watched that I found highly enjoyable. Here are a selection of them:
Films:
The Big Sleep (1946, Howard Hawks)
Ace in the Hole (1951, Billy Wilder)
Ugetsu (1953, Kenji Mizoguchi)
Pather Panchali (1955, Satyajit Ray)
Sweet Smell of Success (1957, Alexander Mackendrick)
A Woman Under the Influence (1974, John Cassavetes)
Stalker (1979, Andrei Tarkovsky)
The Sacrifice (1986, Andrei Tarkovsky)
The Thin Blue Line (1988, Errol Morris)
Taste of Cherry (1997, Abbas Kiarostami)
Television:
Bridgerton (2020, Netflix)
Lupin (2021, Netflix)
WandaVision (Disney+, my thoughts on that to come next month once it has ended)