The western genre is one that I ought to have explored a lot more when I was younger given how many influential films belong to it, especially those that emerged during its golden age in the 1950s. In May, I decided to rectify that by catching up on a number of classic Westerns. Just as I tied in my viewing of many notable Japanese films with my playthrough of Ghost of Tsushima back in March, I did something similar over the past few weeks, whereby the movies, TV shows, and video games I was preoccupied with adhered to the style of a Western. I began watching FX drama Justified, whose central protagonist Raylan Givens (Timothy Olyphant) is a figure who resembles a 19th century lawman in both his appearance and behaviour, and I finally started the Rockstar title Red Dead Redemption 2 having had a copy of it resting on my shelf since I received it as a gift last Christmas. It was difficult to narrow down the amount of features I saw to five selections for this edition, but the pictures I have chosen to spotlight showcase why the Western has been such a popular genre while also demonstrating how it has evolved since the mid-20th century. Thus, here are five recommendations of Westerns that I viewed during May:
Shane (1953)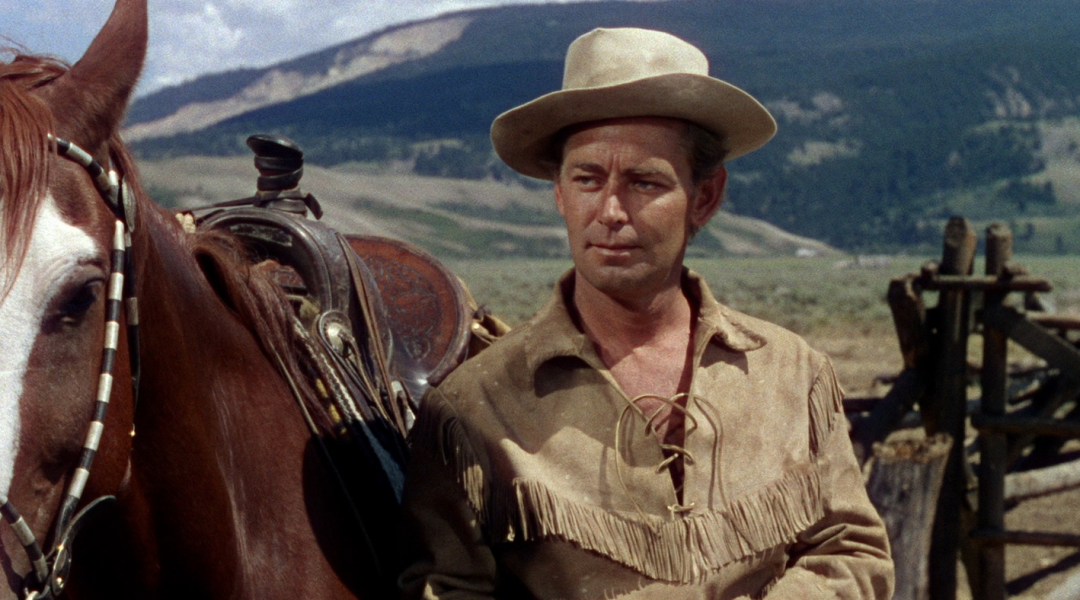 If you have seen James Mangold's Logan (2017), which marked Hugh Jackman's final appearance as the X-Men character Wolverine, you will have already caught a glimpse of George Stevens's 1953 picture in the scene where the main characters are in a hotel room in Oklahoma City and turn on the TV to find it being broadcast. It is not the only time Mangold's film pays tribute to the Alan Ladd-led classic, as iconography and themes are imbued throughout.
Boasting a titular character shrouded in obscurity, Shane takes place in the Wyoming Territory in the late 19th century and sees its protagonist becoming involved in a dispute being the settlers in the valley, including Joe Starrett (Van Heflin) and his family, and a group of rogues headed by Rufus Ryker (Emile Meyer). Despite his attempts to avoid becoming embroiled in violence, Shane eventually has to assist the Starretts and the valley's residents in seeing of Ryker's gang.
It does not take long for the audience to witness how well-equipped the central figure is to handle the antagonists, but rather than celebrating his acts of heroism, a sense of unease overshadows his actions given how attached Joey (Brandon deWilde), the youngest of the Starrett family, becomes to him. The extent to which Joey is keen to emulate Shane troubles the latter given the implication that his past was rather tumultuous. While his arrival in the valley is pivotal to ensuring that the homesteaders remain settled, it poses issues regarding the stability of the Starrett's family unit as the protagonist's relationship with Joey verges on resembling a father-son dynamic. While gunfights, Mexican standoffs, and memorable one-liners are just a few aspects of Westerns that have made them so appealing to casual viewers over the years, Shane offers a remarkably mature commentary on heroism during this time period, interrogating notions regarding masculinity and highlighting the value of exuding nobility and altruism during adversity. Ultimately, Stevens's film exquisitely demonstrates the difficulty in avoiding the "hero" status that has been created by others while still trying to do what you believe is right.
2. Johnny Guitar (1954)
Released a year after Shane, here we have another film from the golden age of Westerns named after its mysterious male protagonist. However, Nicholas Ray's drama is startling in the way it transcends various tropes of the genre. Although the title is Johnny Guitar, the star of the show is Joan Crawford's Vienna, a saloonkeeper who collaborates with the titular character (Sterling Hayden), who also happens to be an ex-lover, to fend off the fury of a group of locals in an Arizona cattle town who demand their departure from the region due to conflicting opinions on various issues, such as the construction of a railroad.
Crawford commands the screen from the moment she appears, delivering a vigorous, captivating turn as Vienna, a character who serves as an extreme departure from the female figures in most Westerns who have had quite passive roles. The proprietress exhibits total ownership over her decisions and actions, even if they create serious conflict with others and displays gunslinging abilities during the thrilling set-pieces, along with her rival Emma Small (Mercedes McCambridge). The sight of two women facing off in an enthralling shootout resonates more strongly watching the film now given that certain features of the Western genre have not aged particularly well, and it reflects Ray's courage as a filmmaker to challenge preconceptions. The success of Johnny Guitar is built upon its subversion of gender roles, witty dialogue, intriguing character dynamics, and its indulgence in music. It feels like a Western for people who do not like Westerns: a colourful, delirious feature totally out of sync with the trends of the genre during the time of its release.
3. The Searchers (1956)
Two names that should immediately come to mind when you think of Westerns are John Ford and John Wayne. The former helmed some of the most revered efforts in the genre and boasts a filmography of more than 140 pictures, while the latter is arguably the face of the Hollywood Western. The actor-director duo collaborated on a number of features in the early-mid 20th century, from Stagecoach (1939) to The Man Who Shot Liberty Valance (1962), but the most celebrated is The Searchers, possibly the quintessential American Western.
Charting the arduous attempts of a Civil War veteran named Ethan Edwards (Wayne) to retrieve his eight-year-old niece Debbie after she is captured by a group of Comanches, Ford's film makes for absorbing but complicated viewing in a contemporary context given that its protagonist displays deeply racist attitudes towards Native Americans. A former Confederate soldier, his desire to rescue Debbie is heavily driven by his prejudice against the Comanches, and he even contemplates killing his niece if he ever finds her due to his fear that she will have been corrupted by the Indians. Thus, viewers have to wrestle with their level of attachment towards Wayne's character and determine whether the movie endorses his motivation. In my view, Edwards serves as an intriguing figure to follow, but not necessarily one to like, and this injects a level of moral complexity that has certainly helped its legacy endure over the years, inspiring conversations about its handling of race relations. By the end of The Searchers, an immaculately crafted piece of work, you will feel as exhausted as the main characters after their immense struggle, yet left questioning how much you enjoyed spending time with them. However, you should be in no doubt of the influence in the Western genre, drawing characters in shades of grey and pondering the consequences of seeking revenge.
4. The Wild Bunch (1969)
Playing through Red Dead Redemption 2 (which I have not yet completed as the time of writing) right after watching Sam Peckinpah's Revisionist Western was quite fitting for a couple of reasons. Firstly, they share a similar level of quite graphic violence, with the 1969 effort bookended by two bloody and intense set-pieces. Secondly, they explore a group of outlaws coming to terms with the end of their time in the spotlight as the world around them evolves. Set in 1913, Peckinpah's feature examines the motives which led to the core cast of characters, led by Pike Bishop (William Holden), becoming a collective as their loyalty to each other and endurance is tested through perilous missions and fraught encounters with dubious figures.
The Wild Bunch is a masterclass in pacing and editing. Peckinpah incorporates flashbacks to key moments in the life of Pike in particular which end up resurfacing in one way or another. However, he does so as the leader and his gang travel to a certain destination, so they never disrupt the flow of the narrative and contextualise Pike's decisions. In regards to the shootouts, the efficacy of interweaving shots from alternative angles at different speeds is a testament to the meticulous approach of both Peckinpah and editor Louis Lombardo in maintaining the momentum of the sequence while highlighting the brutal nature of the violence on display. I do not wish to keep comparing a gem of a 60s Western to a contemporary video game, but there are times in Red Dead Redemption 2 where, if the player delivers a perfect strike on an enemy, the camera cuts from the first-person perspective to a slow motion shot from behind this enemy to show the extent of the damage taken by them. I would not be surprised if this slow motion kill effect was inspired by The Wild Bunch given the other characteristics they share.
As well as boasting these remarkable action scenes, Peckinpah's film also excels in showcasing the camaraderie between the gang of outlaws and the melancholy which overshadows their exchanges as their time together reaches its conclusion. They are forced reflect upon the purposes behind their acts and why they have persisted with this lifestyle for so many years. Just as the characters enter the twilight of their careers, The Wild Bunch is a fitting tribute to the genre's Golden Age while ushering in a new era of Westerns.
5. 3: 10 to Yuma (2007)
Since I mentioned earlier in this piece that James Mangold's Logan pays tribute to the first film I highlighted, Shane, I think it is appropriate to conclude this entry with an effort from Mangold himself. A remake of Delver Dames's 1957 feature, which itself was an adaptation of a short story by Elmore Leonard, 3: 10 to Yuma traces rancher Dan Evans's (Christian Bale) attempt to deliver an outlaw named Ben Wade (Russell Crowe) to Yuma Territorial Prison via a train from Contention, Arizona. A compelling dynamic develops between both men; Evans still reeling from his experiences in the Civil War and his family are struggling financially, while Wade undergoes a gradual shift from a ruthless gunslinger to a man capable of regaining an ounce of humanity.
The nature of the plot enables Mangold to spend a lot of time to build the relationship between the two leads to a point that the audience can understand their actions in the film's third act. The combination of sharp dialogue and unsurprisingly excellent turns from Bale and Crowe makes their interactions riveting viewing. Both characters are quite candid in their exchanges, with Evans expressing his guilt over the circumstances behind the injuries he suffered in the Civil War and how that has his affected his sense of fatherhood, desperate to create a respectable legacy for his two sons. This clearly strikes a chord with Wade, and ends up enhancing the unusual bond they share.
The supporting cast are also terrific, with notable appearances from Peter Fonda, Ben Foster, Logan Lerman, and Alan Tudyk. Mangold handles the set-pieces in exquisite fashion, with the climactic shootout delivering exhilarating gunfights as well as drawing tension in a manner that is simultaneously rather comedic on occasion and pretty excruciating. Ultimately, this remake emerged as the Western genre had reached a nadir in terms of popularity in mainstream cinema, but demonstrated how these types of films still have a lot to offer in regards to thrills as well as complex ruminations on ideas like honour, legacy, and the manifestation of compassion.