June was quite hectic for me when it came to engaging with various forms of entertainment. I wrapped up Red Dead Redemption 2, caught up on a couple of acclaimed television programmes which had premiered earlier in the year in Mare of Easttown and Invincible, watched most of the group games of Euro 2020, and visited the cinema three weeks in a row. As I approached the end of the month, I knew that I wanted the latest edition of 'What I've Been Watching' to highlight a set of films which revolved around a specific community: LGBTQ. I had some time over the final weekend of June to view a handful of queer films that I had been meaning to see for a while, ones with a solid reputation among cinephiles but had achieved the level of popularity among general audiences that efforts such as Brokeback Mountain (2005) and Moonlight (2016). Subsequently, this latest entry in my monthly series highlights three features which illuminate multiple LGBT issues in a striking and moving fashion.
Hedwig and the Angry Inch (2001)
An adaptation of his and Stephen Trask's 1998 stage musical, John Cameron Mitchell's feature directorial debut has garnered a cult following since its release in 2001. Charting the story of a genderqueer teenager named Hansel Schmidt (played by Mitchell himself) who eventually becomes known as Hedwig Robinson, this piece explores the trials and tribulations involved in attempting to obtain success in the rock scene whilst wrestling with one's identity.
Hedwig's story still resonates deeply today through its layered, engrossing portrait of an individual undermining notions regarding gender and sexuality. The film utilises the musical genre to elucidate the issues faced by the titular character in a transfixing way, boasting beguiling set-pieces which also serve to delve deeper into Hedwig's state of mind. Mitchell makes for a terrific on-screen presence, however he also demonstrates astute craftsmanship behind the camera not only with the musical sections, but the more subdued, intimate interactions between various characters as he treats the subject matter with sincerity. He places a lot of trust in the audience to go along with some of the more surreal moments, with the film occasionally incorporating animated sequences to complement lines of dialogue from Hedwig. This sense of looseness which characterises the manner in which the narrative is depicted is fitting given that the picture's heroine is seeking to avoid being defined by others. Demonstrating how to entertain its viewership, experiment with genre conventions and offer a nuanced representation of a genderqueer figure, Hedwig and the Angry Inch deserves to be held in high esteem when it comes to discussing LGBTQ films.
Pride (2014)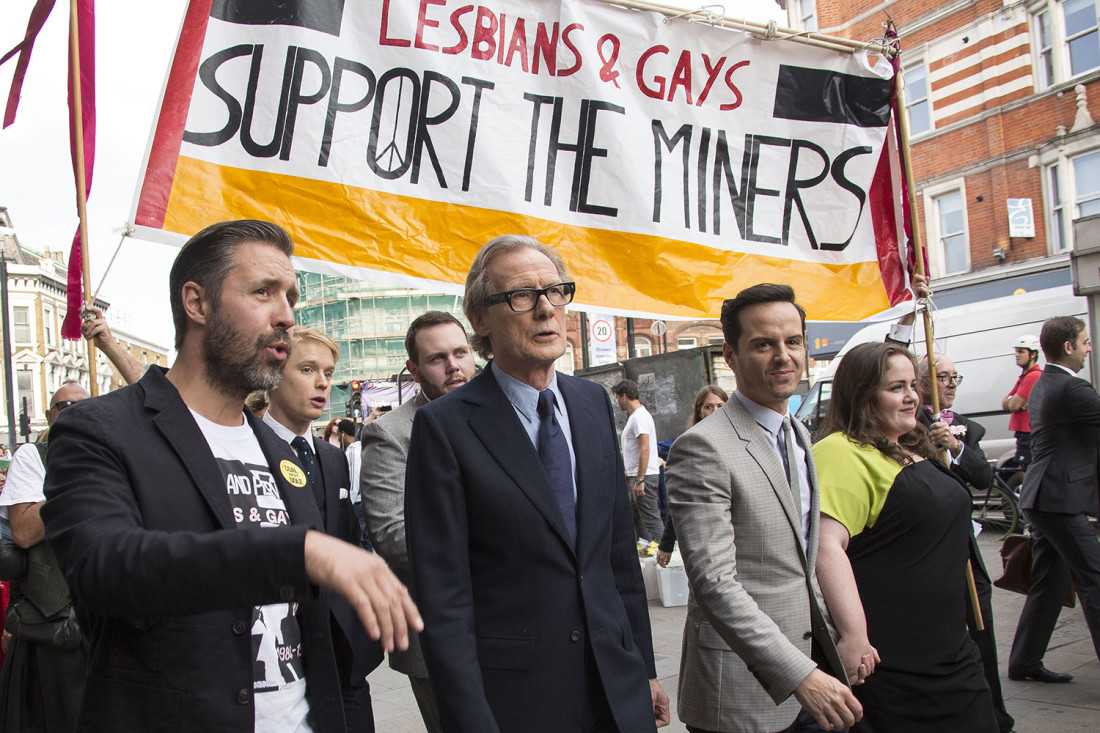 Set in 1984-85, Matthew Warchus's highly enjoyable historical drama, featuring a terrific ensemble cast, revolves around the efforts of a group of gay and lesbian activists to raise money for the people affected by the British miners' strike, eventually culminating in an initially frosty but ultimately affable dynamic between members of both communities.
Pride immediately establishes the extent of the prejudice and discrimination endured by these groups, with Mark Ashton (Ben Schnetzer), one of the activists who helps to launch the "Lesbian and Gays Support the Miners" (LGSM) initiative, making the observation that the police have turned their attention away from the gay community to deal with the fracas caused by the miners' strike. The marginalisation experienced by them creates a mutual sense of frustration and desire to act. Crucially, the bond forged between these factions develops slowly and in a believable manner, with Warchus and writer Stephen Beresford displaying an awareness of the obstacles which had to be overcome in order for this alliance to manifest. They also understand that the relationships which come to fruition as a result of their interactions serve as the film's emotional core, rendering events in the latter stage all the more stirring. In the midst of a tumultuous period in British history, the showcase of cooperation and acceptance enables a mood of optimism to pervade the picture. Moments of humour are interspersed deftly with instances of serious dramatic weight, and although the movie focuses on multiple figures rather than framing proceedings from a single perspective, this helps to bring the central theme of collective solidarity to the fore. They exhibit a maturity in striving to heal the wounds caused by fractious exchanges between both communities, further endearing us to their cause. An essential watch for people unfamiliar with its historical context, Pride is a crowd-pleasing, rousing feature with a vital message at its centre regarding tolerance and unity.
A Fantastic Woman (2017)
Winner of the Best Foreign Language Film category at the 90th Academy Awards, Sebastián Lelio's drama, led by the magnificent Daniela Vega, is a profound illustration of the prejudice endured by a young trans woman in Chile in the aftermath of a tragedy. Marina (Vega), a singer and waitress, begins the film enjoying her romance with an older man named Orlando (Francisco Reyes), but a fatal incident involving the latter sends her life spiralling into despair, especially given the contempt she is held in by Orlando's family and friends. She is caught up in police investigations into Orlando's death, with preconceptions held by a detective named Adriana regarding the nature of the pair's relationship only adding to Marina's inner turmoil. Ultimately, the protagonist faces challenges asserting her freedom and sense of identity as she is in the process of grieving.
In the wrong hands, the subject matter of A Fantastic Woman could have been depicted in a heavy-handed and overly sentimental manner. Thankfully, Vega's riveting performance, Lelio's assured direction, and a fine script co-written by Lelio and Gonzalo Maza combine to deliver a sincere portrayal of the marginalisation faced by transgender women. Scenes which could have descended into a string of loud verbal insults and heated arguments instead rely on uncompromising and brutally candid lines of dialogue to demonstrate the ignorant and stubborn nature of the individuals Marina encounters throughout the picture. The warmth exhibited by her and Orlando's romance in the opening ten minutes only renders the disdain others have for her all the more infuriating. Crucially, Lelio ensures that a balance is struck between displaying the harsh realities of Marina's life with moments of defiance, instances where her comfort with her identity comes to the fore and she is able to achieve some form of self-expression. We have reached a stage in film representation of the LGBTQ community where features should lean more into the second part of this dichotomy, but Lelio's piece is nonetheless is an absorbing encapsulation of the discrimination brought about by non-conformity and the strength of character required to rise above it.