Backed by Netflix, boasting an impressive ensemble cast, and marking New Zealand filmmaker Jane Campion's first theatrical feature since 2009's Bright Star, The Power of the Dog was certainly one of the most intriguing releases of this winter season. Taking place in Montana in 1925, the adaptation of Thomas Savage's 1967 homonymous novel follows Phil Burbank (Benedict Cumberbatch) and his brother George (Jesse Plemons), both of whom own a ranch in the Western US state. During a cattle drive, they encounter an inn owner named Rose Gordon (Kirsten Dunst) and her son Peter (Kodi Smit-McPhee), a meeting that proves pivotal in the lives of these siblings. George's bond with Rose develops into a serious relationship, culminating in their marriage, and Phil's uneasiness with the brothers' dynamic on their ranch being disrupted leads to him venting his frustrations in a manner that dramatically affects each of the principal figures in the narrative.
Split into five chapters, Campion's film does an exceptional job of establishing key character traits, facets in the relationships they share, and maintaining the momentum throughout each section. Through her mastery of visual language, the director tells us all we need to know about the Burbank brothers without relying on heavy exposition. There is a stark difference in the way they dress (Phil's rugged outfits contrasts with George's fancier attire) as well as how they interact with people, as the former's instinct for making defamatory remarks is juxtaposed with the latter's tendency to be more soft-spoken and courteous. However, they also sleep in the same bedroom, and as business partners they have achieved a considerable level of success together in carrying on the legacy of their wealthy parents. Hence, there is a dependency on each other but also a sense of isolation, which for Phil is exacerbated by Rose's meeting with George.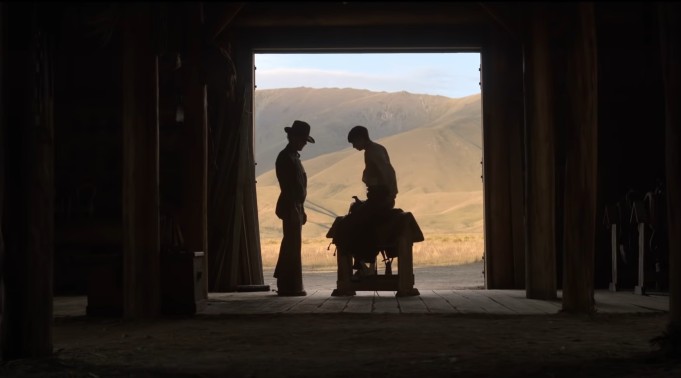 Once a new player is introduced in The Power of the Dog, Campion pivots the focus onto this individual and the impact they have on Phil in particular, which not only adds a new layer of tension to the story but ends up revealing a little bit more about Cumberbatch's character. The scenes featuring the British actor and Dunst are easily the most unnerving to watch unfold, as Phil's domineering side comes to the fore, not through loud verbal insults or physical abuse, but through expressing his superiority at a certain musical craft that he uses as a trigger in later interactions. The risk of events becoming quite repetitive emerges when Peter arrives on the ranch in the second half of the film as it seems like Phil is just going to browbeat another member of the Gordon family, yet the young adult unveils some secrets about his new uncle-in-law that render him much more emotionally vulnerable and subsequently far more complex as a figure. Campion's feature flows beautifully from chapter to chapter; no section feels as though it has been dragged out, nor does the film come across as episodic. Her omniscient perspective over the narrative enables viewers to become more deeply attached to each character as well as giving her the licence to insert subtle hints of crucial plot developments throughout the film.
The turns from the cast are outstanding. Another performer may have leaned too heavily into the more brash, borderline tyrannical aspects of Phil's personality, but Cumberbatch excels at conveying his insecurities while carrying an intimidating demeanour. Dunst is heartbreaking as Rose, a widow whose endearing affection for George offers her another chance at a happy marriage, which is ultimately hampered by the psychological torment Phil inflicts on her. The standout however is Kodi Smit-McPhee, whose Peter is an enigmatic figure, probably the character audiences will find initially difficult to connect with but leaves the strongest impact by the time the end credits roll. The Australian actor is challenged with preserving a sense of mystery with Peter without coming across as too detached from the overarching narrative, and through captivating facial expressions and body language Smit-McPhee fulfils that task.
There is excellence across multiple artistic crafts in The Power of the Dog. The costume design is vital in exhibiting core attributes of the characters, the score by Jonny Greenwood echoes his recent work in Spencer in using string instruments to convey the discomfort among the characters created by shifting power dynamics, and the cinematography by Ari Wegner captures the beauty of the landscape surrounding the Burbanks' ranch while simultaneously highlighting the unsettling extent of its seclusion from wider society. After an absence of just over a decade from cinema, fans of Jane Campion's work will be thrilled by the visual splendour and dramatic weight of her most recent effort, a film that is unlikely to leave viewers feeling jovial by its conclusion but keen to revisit it on multiple occasions.