It feels like only yesterday that I was writing about my ten television highlights of 2020, a year when the medium's reliability in offering a host of engrossing pieces of entertainment felt particularly important given how much time we all had to spend at home. My dependence on programmes to keep me absorbed during a lockdown continued for the first quarter of 2021, but as the year progressed numerous sectors began to open up again and there were opportunities to take our eyes off the television and indulge in other forms of entertainment. However, the large amount of streaming services available to consumers subsequently leads to a vast number of intriguing shows being produced, and 2021 was so packed with high-profile programmes that it became increasingly difficult to catch up to all of them. Nevertheless, I was highly impressed by the majority of series I dedicated time to watching over the past twelve months, therefore I have decided to highlight five shows that left a lasting impression on me. Three of these are miniseries with riveting contained storylines, while the other two are ongoing shows that had their third season debut in 2021, demonstrating their remarkable ability to maintain a high level of quality over a number of years in spite of the issues posed by the pandemic. This list is not ranked as I really dislike suggesting that one series which differs hugely in scope and tone to another is the "superior" production, but when I reflect upon this year in television, these are the shows that stand out.
Time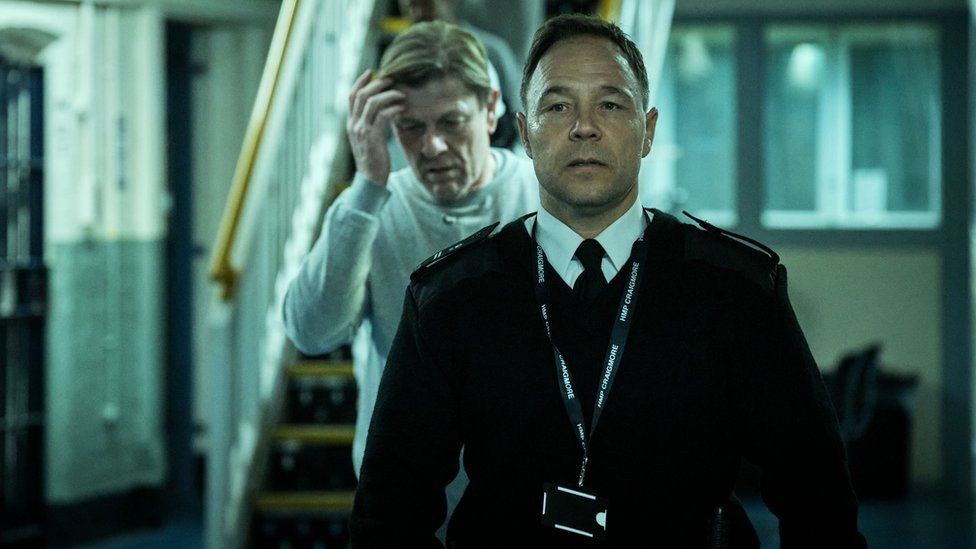 As soon as I heard that Sean Bean and Stephen Graham were starring in a BBC prison drama, I knew that it would be compulsory viewing, but despite having high expectations I was blown away by how gripping and poignant the Jimmy McGovern-penned miniseries ended up being. Comprised of three episodes, all of which were directed by Lewis Arnold, the show follows a former teacher named Mark Cobden (Bean) who has been sent to prison for four years. It does not take him long to realise that in order to fulfil the duration of his sentence, he needs to adapt to the extremely rough conditions in the prison, where the inmates' anxieties and frustrations manifest in dangerous ways. Simultaneously, Eric McNally (Graham), Mark's personal support officer, is forced to make difficult decisions that could hugely impact his career and his family life.
A powerful exploration of fatherhood, atonement, and the penal system, Time is the kind of show that, in the wrong hands, could have overplayed the misery brutality of prison life and ended up turning off viewers, but what keeps the audience engaged is the sensitivity apparent in the characterisation. The inmates Mark encounters are not painted with the same brush, ranging from deceitful to generous, and the relationships he forms with a handful of them pay off in highly dramatic and emotionally rewarding ways. The journeys him and Eric go on are not only absorbing due to the narrative stakes, but because they challenge viewers to consider how they would handle themselves in similar situations. Ultimately, the series questions the extent to which whether prison life makes a person evolve or regress, and while it does not provide easy answers, it handles the subject with the appropriate level of complexity.
2. The Underground Railroad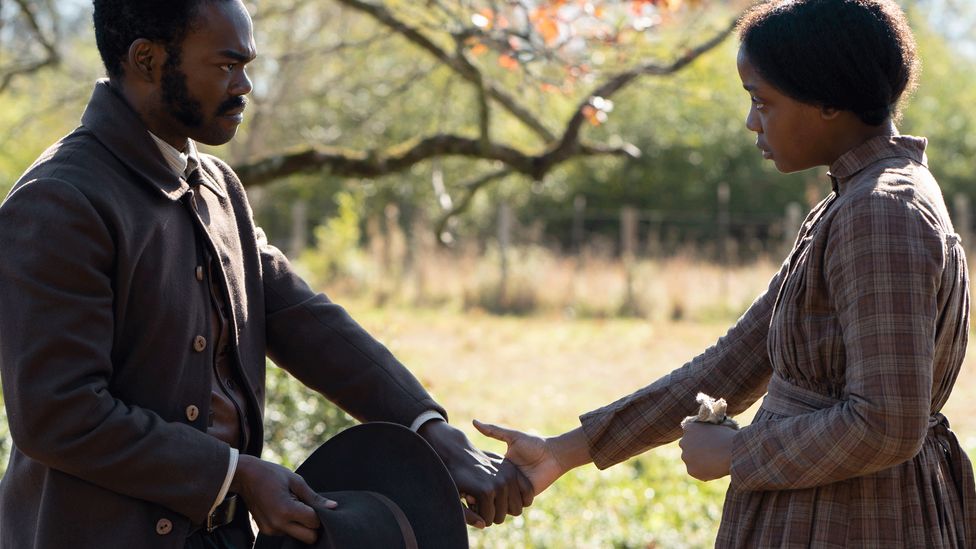 Having directed two of my favourite films of the past decade in Moonlight (2016) and If Beale Street Could Talk (2018), Barry Jenkins's limited series was a project I was very excited to check out. Like Time, The Underground Railroad is not always a pleasant watch, but Jenkins's 10-part limited series was one of the most visually arresting and poignant pieces of entertainment I saw across any medium this year. An adaptation of a 2016 novel of the same name by Colson Whitehead, the programme is set during the early to mid-1800s and focuses on the attempts made by a group of African-Americans to escape from slavery in the Antebellum South. With an artist like Barry Jenkins at the helm, one would not expect this show to play out like a typical historical drama, as the director's fastidious approach to the subject matter manifests through exceptional camera work, nuanced characterisation, wonderful performances, and audacious but efficacious music cues.
One of the most notable achievements of The Underground Railroad is its ability to capture both the beauty and harshness of its setting. Jenkins does not shy away from displaying the atrocities of slavery, but these harrowing moments are juxtaposed with exquisitely filmed sequences that revel in the joy of sparking a connection with a fellow member of one's community or obtaining a sense of freedom. While the narrative through line of the main protagonist Cora (Thuso Mbedu) fleeing from slave catcher Ridgeway (Joel Edgerton) is gripping to watch unfold, some of the series' most compelling chapters are those which direct attention away from this strand to highlight the more inconspicuous forms of racism embedded in wider society. Beyond the visual allure of Jenkins's text, the richness of its thematic material and its unique presentation of a troubled time in American history renders it one of the most spellbinding productions of the year, and cements the Florida-born filmmaker as one of the finest working today. The series also contains a magnificent score from Nicholas Britell, who happens to work on my next choice…
3. Succession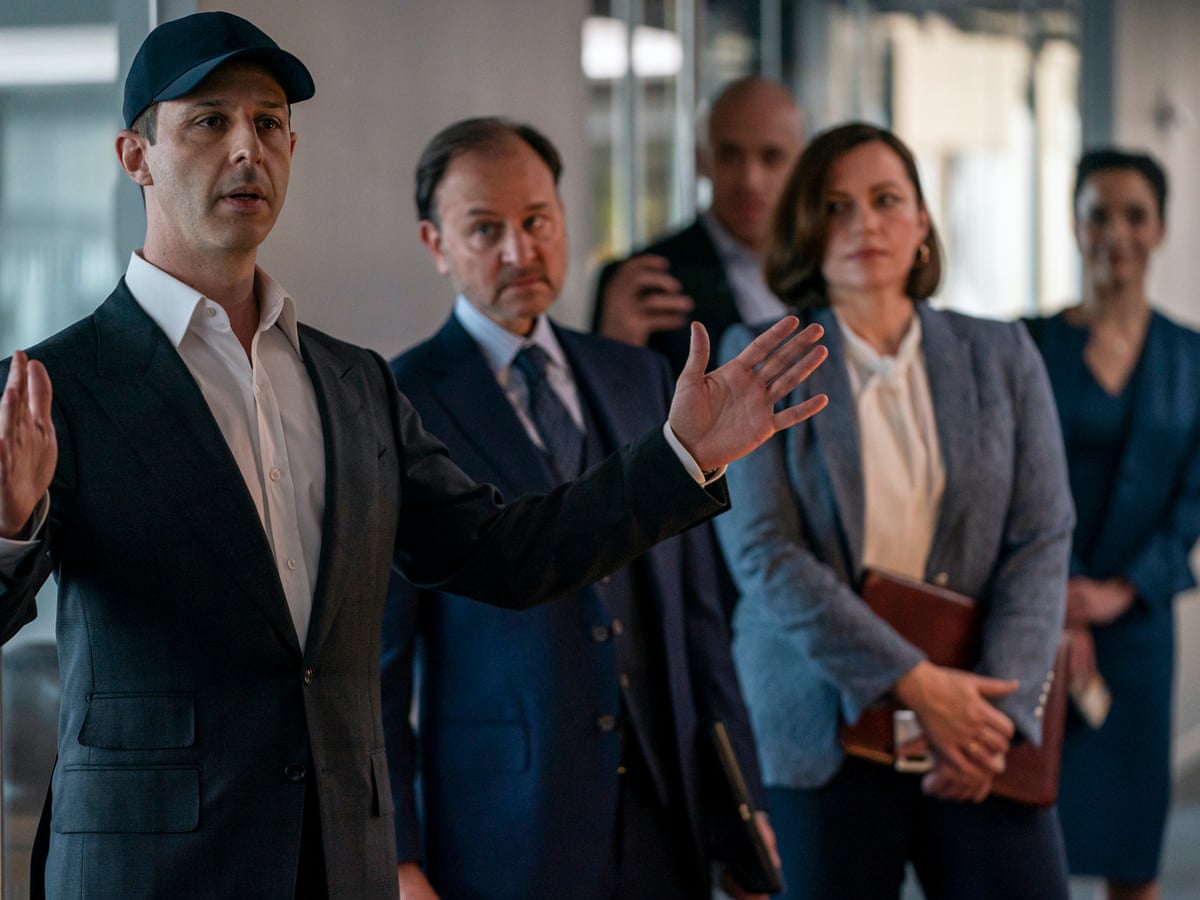 My feelings about the third season of the HBO drama are still quite raw given that, at the time of writing, it only wrapped up a couple of days ago, but truth be told the finale could've consisted entirely of Greg (Nicholas Braun) chatting up women for just over an hour and I still would have made room for the show on this list. After an outstanding second instalment which aired in 2019, the follow-up takes its characters in surprising but fitting directions, all the while continuing to treat its fans with witty, biting, and endlessly quotable dialogue.
Succession does not tend to follow the conventions of dramatic television, in that plot threads established in one episode can be quickly discarded in the next, and many of its characters tend to regress rather than evolve. On the surface, this should make for a frustrating viewing experience, but it is anything but. The members of the Roy family are far from likeable, but the dynamics that exist between them are fascinating, and witnessing each of them attempt to manoeuvre themselves into favourable positions in ways that range from farcical to wickedly cunning makes for great entertainment. There is also something thematically appropriate in this day and age about a group of wealthy individuals regularly facing threats that may cost them their privilege, only for these threats to dissipate with little controversy.
I would not consider myself an expert in television series in the slightest, but from my experience of watching a handful long-running programmes, the third season is usually an indicator as to whether the showrunner(s) have a handle on the material and can be trusted to bring it home. On the evidence of Succession's latest string of episodes, Jesse Armstrong has earned my trust. Speaking of third seasons…
4. Sex Education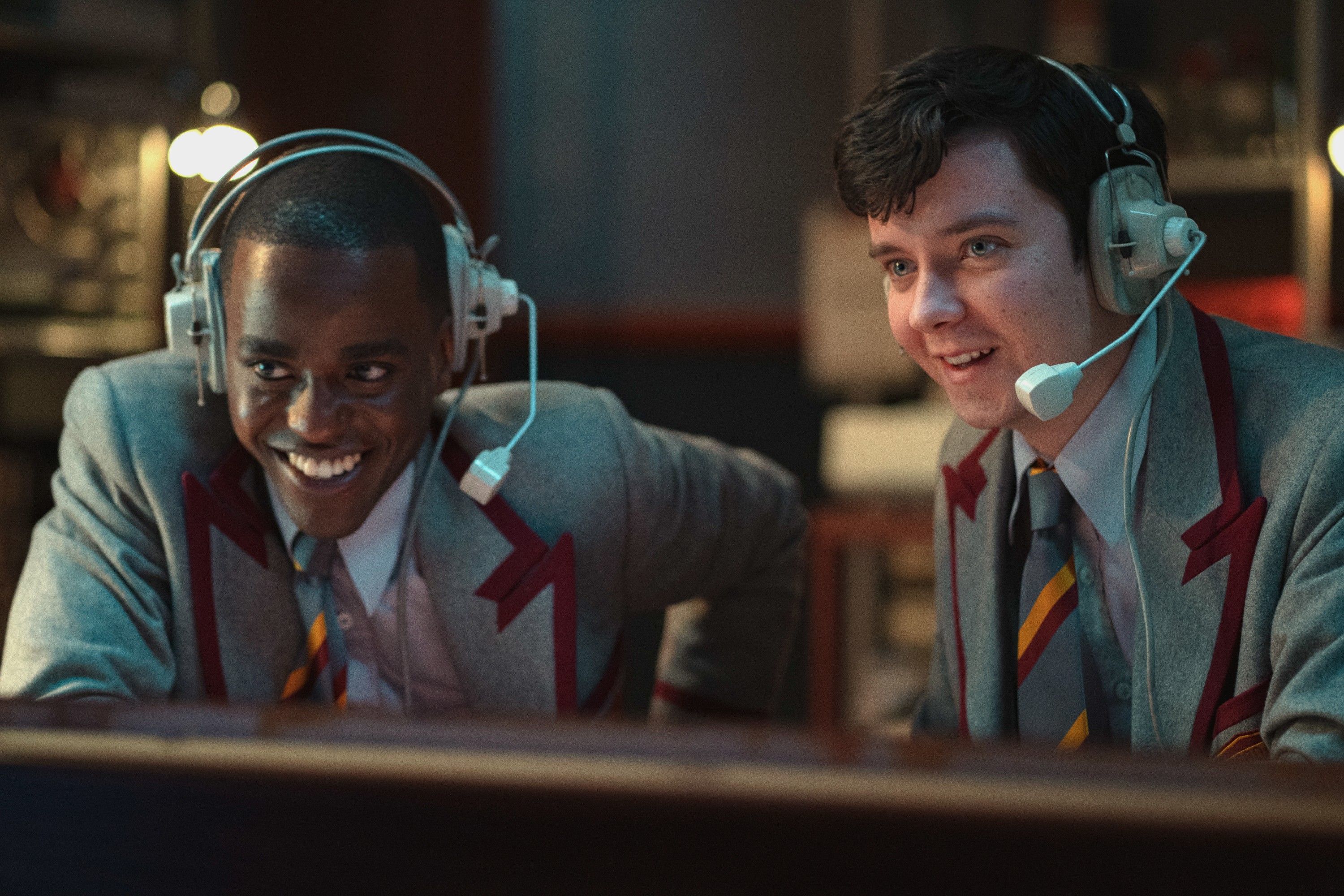 This is the only show I have already written about on this blog before, but whenever I have an opportunity to discuss the Netflix comedy-drama series, I am going to take it. Please check out my review of Sex Education's third season to understand how much this programme means to me, but a key reason why this show ranks alongside the other productions in this list comes down to how emotionally involved I was in this season for almost the entire year. There have not been many seasons of television I had looked forward to more than this one. Throughout the spring lockdown and the summer months, I tracked the progress of Season 3, to the extent that I even had a dream in which a release date was announced, only to wake up and discover that it was still being kept under wraps. Once September 17th was declared the official release date, I ensured that I did not make many arrangements for that week so I had the time to watch at least one episode a day until I completed the season. This is the kind of thing you might do for a Game of Thrones season finale or a huge sporting event, not a series set in a secondary school revolved around a student giving out sex advice to his fellow students. And yet, these irrational thoughts and actions exhibit the level of attachment I have to the characters in Sex Education that it felt less like I was looking forward to the new season of a show I love, and more like I was about to reunite with a group of friends I had not seen for over a year.
Thankfully, it was worth the wait. The key figures were as endearing as ever, the new members of the cast added freshness to the dynamic at Moordale, and the writing team continued to shine a light on issues that young people in particular need to be aware of. Season 3 of Sex Education boasted the only moment of television this year that left me breathless, and the only scene of television this year that made me tear up. And after having to reconcile with the fact that I will not be seeing these wonderful characters again until 2023 in all likelihood, I was able to appreciate that creator Laurie Nunn and everyone involved in the production of Season 3 had delivered something special.
5. Mare of Easttown
Beyond the exceptional quality of this HBO miniseries, one factor in my decision to include it on this list is that it was one of the few shows that my parents were able to sit down, watch and speculate about together. Even if we all have a mutual interest in a show, life circumstances usually mean that we end up watching it at different stages. On this occasion, the three of us waited until every episode of Mare of Easttown was available on NOW TV and we watched one a night over the course of a week, and the experience was highly entertaining and thrilling, in spite of the show's dark tone.
Anchored by Kate Winslet's terrific turn as the titular Mare, Brad Inglesby's seven-episode piece delivers exactly what you want from a whodunit in terms of surprises and tension,while handling subjects such as grief and motherhood in earnest fashion. Viewers come to closely know the inhabitants of the Philadelphian suburb the show takes place in, and the complex relationship Mare has with many of them increases our emotional investment not only in the resolution of the mystery but in restoring the protagonist's credibility in the local community. Every episode delivers enough suspense and family drama to maintain a strong sense of momentum, and even the concluding episode misleads viewers into a feeling of comfort before pulling the rug from under them with one final curveball. Deftly balancing a riveting mystery with a tale of an individual overcoming long-running psychological torment, Mare of Easttown is an exemplar of how prestige dramas can still carry broad appeal without sacrificing intelligent, thoughtful storytelling.
Here are a few honourable mentions for shows that could easily have nabbed a spot on this list:
Cobra Kai (Season 3)
WandaVision
It's a Sin
Loki
The White Lotus
Ted Lasso (Season 2)
Squid Game
Midnight Mass
Maid
Insecure (Season 5)
Landscapers