While many people might have spent their December watching Christmas movies, I spent the month catching up on a string of recent features in the hope that I would be able to highlight them in an end-of-year post reflecting on 2021 in film. Up until this month, my view on this year was that there had been plenty of very good efforts, but not many great ones. I was willing to let this slide given how the current pandemic had affected numerous productions and the release schedule, but since this was the year when I was able to go the cinema regularly again, I had hoped for a few more mesmerising experiences. However, I have often had to wait until December or well into the following awards season for me to discover my favourite film of a given year, and as it transpires there were two pictures I got a chance to watch in consecutive days that shot straight to the top of my list for 2021. It is very difficult for me to rank one over the other, so in this final edition of 'What I've Been Watching', I have decided to pay tribute to the two movies I will look back on at the end of this decade as being the highlights of this particular year.
Licorice Pizza
Any project from Paul Thomas Anderson would have been one of my most anticipated features of any given year, but when the news emerged that his latest film would be a coming-of-age comedy-drama, my excitement increased considerably. When a movie pertaining to this genre really works, whether it be George Lucas's 1973 classic American Graffiti or Greta Gerwig's solo directorial debut Lady Bird (2017), it tends to profoundly resonate with me since many of the obstacles faced by the central characters tend to resemble some of the issues I have had to confront recently. While those films follow multiple individuals in the same age group/school year or a lead protagonist making the transition from adolescence to adulthood, Licorice Pizza presents two figures on opposite ends of this shift. Commencing in Southern California in 1973, the film centres on 25-year-old Alana (Alana Haim), a photo assistant, and Gary (Cooper Hoffman), a 15-year-old high school student, who encounter each other during the latter's school picture day strike a bond, in spite of the fact that Gary's romantic feelings towards Alana are not openly reciprocated by her. For the rest of the picture, Anderson tracks the evolution of their relationship as they collaborate on Gary's waterbed business before Alana decides to pursue an acting career, with the pair forced to reckon with the alternative stages they are at in their lives.
Detractors of Licorice Pizza may argue that it is quite aimless, as the narrative is built around Gary and Alana going on numerous adventures, losing and regaining interest in each other, without any obvious point of culmination. However, although many of the pair's escapades are thrilling due to the eccentric figures they meet and the great comedic moments which result from this, they also serve to underscore the rocky foundations the protagonists' relationship is built upon, in that one is a teenager who attempts to carry himself as a twentysomething male, and the other is in early adulthood, faced with increasing responsibilities, keen to find a romantic partner and a viable career, but also content to recapture the blissfulness of adolescent innocence through her meetings with Gary. Haim and Hoffman's vivacious performances and Anderson's reliably sparkling dialogue renders their interactions thoroughly engrossing and endearing, but there is a nagging sense of unease at whether the possibility of a long-term amorous relationship is appropriate for both.
Beyond this emotional hook, Licorice Pizza boasts excellence in a multitude of crafts, as you would expect from a Paul Thomas Anderson film. I was fortunate enough to see the movie screened in 35mm and the 1970s San Fernando Valley setting is captured in mesmerising fashion by Anderson and fellow cinematographer Michael Bauman. The soundtrack features tracks from the likes of David Bowie, Paul McCartney and Wings, Nina Simone, and The Doors, but they are utilised in spellbinding ways which only enhance the feeling of being transported to this period of time. The director does not totally revel in this era however; he highlights the darker side of the Hollywood scene, mainly through Alana's perspective as she navigates an extremely sexist, homophobic, and racist industry. Ultimately, Anderson's ability to marry the complexities of the central relationship, as well as the allures and dangers of its backdrop, demonstrate his immense talent as a filmmaker and a storyteller. Thank you PTA for a wonderful Christmas present!
Drive My Car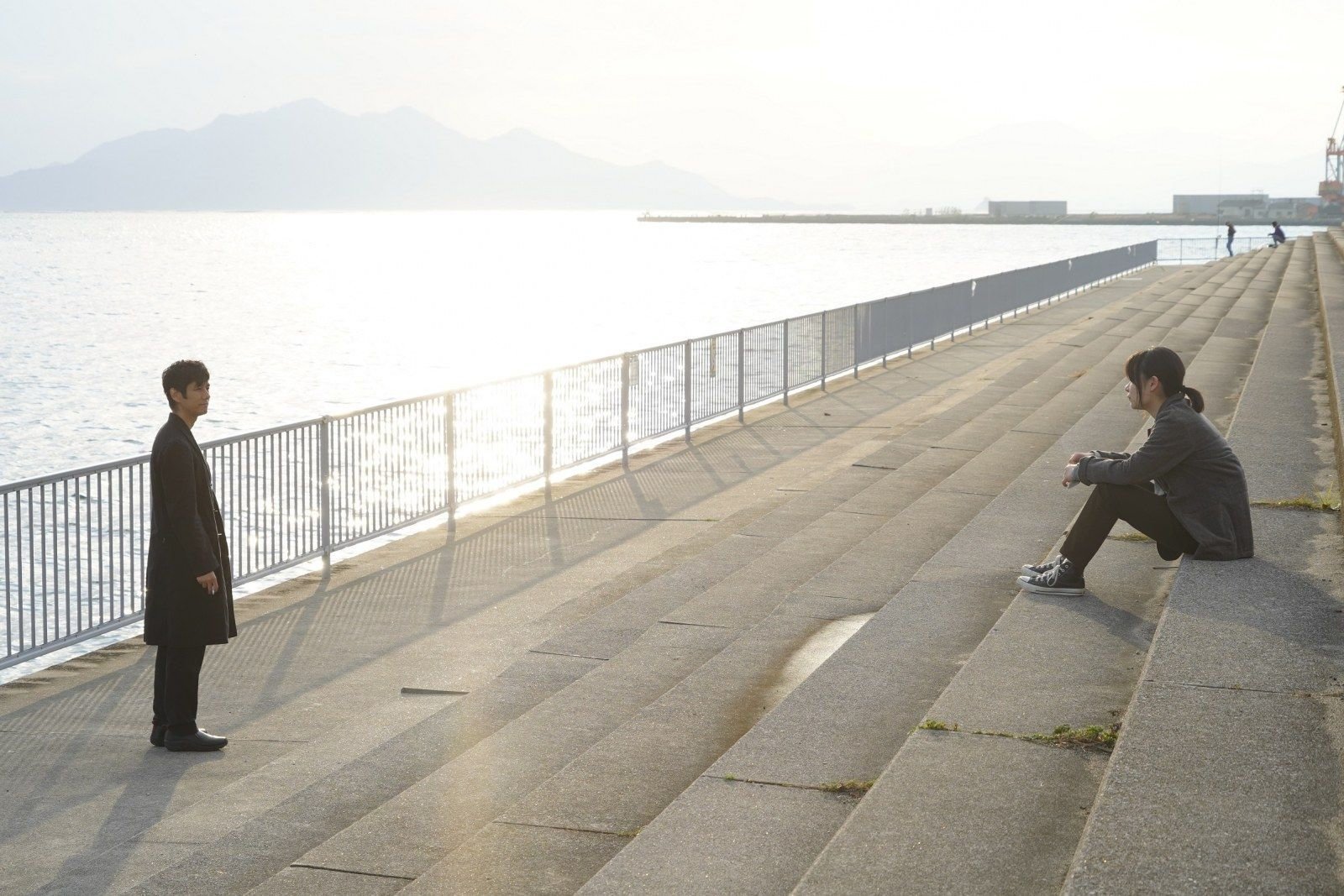 It's rare for two of a director's films to come out in the same year. It's even more rare for the pair of films to be considered two of the best of that year. It occurred in 1974 with Francis Ford Coppola's The Conversation and The Godfather: Part II and in 1993 when Steven Spielberg's Jurassic Park and Schindler's List were released a few months apart. To Western audiences, Ryusuke Hamaguchi is not as reputable as those celebrated filmmakers, but he has achieved a similar feat in 2021 by delivering two incredible pieces of work in Wheel of Fortune and Fantasy and Drive My Car, the latter of which ought to be a strong contender for Best International Film at next year's Academy Awards ceremony.
A poignant rumination on companionship, grief, and honesty, Drive My Car revolves around Yūsuke Kafuku (Hidetoshi Nishijima), a theatre director who is married to a screenwriter named Oto (Reika Kirishima). While the first 40 minutes explores the couple's attempts to maintain stability in their relationship in light of their four-year-old daughter's recent passing, there is a time jump of two years after a tragic incident drastically alters Yūsuke's life in particular, as he now focuses on helming a theatrical adaptation of Uncle Vanya by Anton Chekhov. Hamaguchi's audacious approach to the narrative structure could easily have come across as too jarring, especially given how much time the piece invests in highlighting the complexities of Yūsuke and Oto's marriage. The genius of this three-hour feature however is that once this section concludes, the emotional depth of Hamaguchi's text is enhanced by what follows, in which feelings of regret, loneliness, and betrayal all manifest in ways that fluctuate between subdued and uninhibited.
The manner in which these sentiments are expressed is acutely exhibited by Hamaguchi, specifically through the extent to which the rehearsals of Uncle Vanya force the cast to reflect their true selves through the means of performance. Just as gripping are the scenes shared between the protagonist and Misaki (Tôko Miura), a woman who is assigned to be his driver during his spell helming the Chekov adaptation. I have never watched a film that so honestly captures the dynamic between two or more people in car in which no one is speaking to each other, but it is apparent that they are concealing a range of emotions which have been gnawing at them for some time. The tension elicited from whether or not someone will let loose and be upfront about their struggles is released gradually over the course of the pair's often muted interactions, culminating in a moving final stretch. Full of magnificent performances from the entire cast and rich dialogue that is utilised sparingly but effectively, Drive My Car, in conjunction with Wheel of Fortune and Fantasy, is a masterful showcase of Hamaguchi's ability to take audiences on an unconventional but heavily rewarding journey that navigates a spectrum of human experiences.
Here are a few of the other movies I would consider to be among my favourites of 2021:
In the Heights
The Worst Person in the World
The Power of the Dog
Dune
Wheel of Fortune and Fantasy
Summer of Soul
Titane
The Green Knight