This review contains mild spoilers.
It was around this time last year that I began watching Cobra Kai – the sequel series to The Karate Kid films – and what followed was one of the most enjoyable experiences I had watching a piece of entertainment in 2021. Originally produced by YouTube but subsequently picked up by Netflix, the first three seasons of the show reinvigorated the martial arts franchise, taking beloved characters like Johnny Lawrence (William Zabka) and Daniel LaRusso (Ralph Macchio) in intriguing directions as they guide a new generation of students, notably Miguel Diaz (Xolo Maridueña), Robby Keene (Tanner Buchanan) and Daniel's daughter Samantha (Mary Mouser), through their journeys from novices to championship contenders, culminating in the thrilling episode 'December 19' in which the showrunners made three promises to fans for the fourth season. Firstly, the 51st All Valley Karate Tournament in which Daniel, Johnny, and the latter's former coach John Kreese (Martin Kove)'s dojos would all compete. Secondly, Daniel and Johnny attempting to work together to ensure that their dojos defeat Kreese and his Cobra Kai team. Finally, the return of Terry Silver (Thomas Ian Griffith), one of the main antagonists of The Karate Kid Part III who worked closely with Kreese to torment Daniel in that instalment. In the piece I posted last February in which I gushed about this series, I mentioned that this tournament was the most excited I had ever been for a fictional sporting event, not only in terms of spectacle but because of the high narrative stakes, with Daniel, Johnny, and Kreese agreeing that the losing dojo(s) had to shut down. However, I was also aware that a fifth season had been greenlit, which made me wonder how Cobra Kai could continue to engage viewers beyond this event. Thankfully, Season 4 proves that this show has a long way to go yet.
In spite of all of the hype surrounding the latest All Valley tournament it is not enough to build ten episodes entirely around it, so the showrunners decide to add a few fresh faces to the series. Aside from Terry Silver's re-emergence, there is a brand-new character in the form of Kenny Payne (Dallas Dupree Young), a new student at West Valley High School whose tense relationship with Daniel's son Anthony (Griffin Santopietro) forces Mr. Miyagi's former protégé to confront his youngest child about his sedentary lifestyle as well as reckon with his own parenting methods. Kenny's appearance also impacts greatly on Robby, who takes the adolescent under his wing having just become a member of Cobra Kai himself. Furthermore, individuals whose position in the overarching storyline seemed to be cemented, particularly Samantha's fierce rival Tory Nichols (Peyton List), have to interact with other figures who encourage them to take a different approach to certain issues. Cobra Kai has featured plenty of heel turns since its debut in 2018, but very few of them have felt unearned, and this commitment to sincerity from the showrunners is present throughout Season 4.
The highlight of this string of episodes however is easily Silver. Anyone who has seen The Karate Kid Part III knows how wild of a character he can be, but his opening scenes of this season are far more subdued than one would expect, as he now resides in a beach house having turned his back on teaching karate with Kreese after the events of the third film. He soon realises that the opportunity to relive the glory days is too good to turn down and ends up assisting his fellow Vietnam War veteran in coaching his students. Not only does his reappearance imbue another layer of bitterness between Daniel's Miyagi-Do and Cobra Kai, but it considerably shakes up the dynamic in the latter, as Silver's teachings begin to veer further and further away from Kreese's principles. Two highly charged senseis with a lust for power? It's as riveting as you would expect.
Season 4 of Cobra Kai is relatively light on action sequences compared to previous instalments, mainly due to the fact that the competing members of the prominent dojos are discouraged from fighting with their potential opponents before the tournament commences, but when the 51st All Valley Championships finally begins it serves a plethora of thrilling set-pieces, with a combination of unexpected match-ups and long-awaited showdowns. The stunt work is the best it has ever been on this show, and a mixture of solid camera work and mostly appropriate use of slow motion ensures that every kick, punch, and takedown is captured in a way that ought to provoke animated responses from viewers. The biggest achievement of this season to me, however, is that my enjoyment of it was not totally dependent on the outcome of this tournament. In fact, I had a strong suspicion of what the eventual result would be about halfway into it. What the showrunners manage to demonstrate is that Johnny and Daniel's journeys are far from over, evident in their struggles to collaborate with each other when their dojos initially unite, while a few of the younger characters have developed the maturity to consider the effect karate is having on their lives and whether or not they should continue engaging in it. The end of Season 4 leaves many of them in strange situations, which only renders the stakes for the fifth season even higher.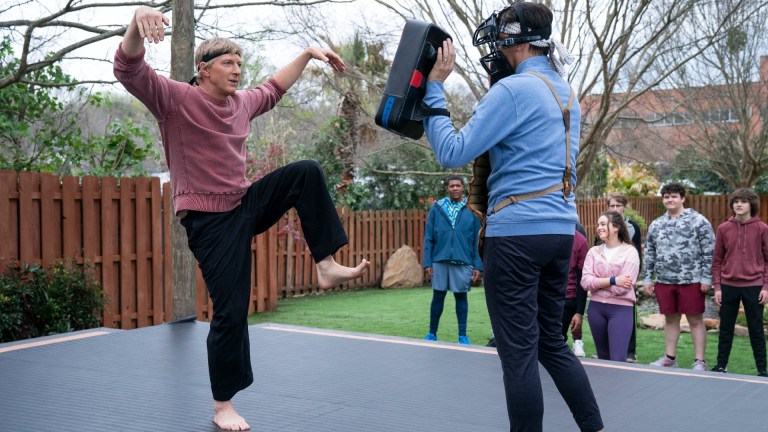 Having waited nearly a year after punching the air in delight at the final scene of 'December 19', the fourth season of Cobra Kai further exhibits how well this show balances fun and exquisitely choreographed combat with a multitude of heartfelt moments, recognising that an impressive sporting spectacle carries much more weight if one is emotionally invested in its participants. Furthermore, the writing staff's ability to add new figures to the 'Miyagi-Verse' this late in the game, without detracting from the main players' arcs, bodes well for the show's longevity. Season 5 could not come soon enough.